Feature Bikes
Honda NSR150 Electric Conversion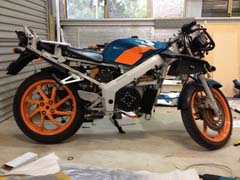 Righthand side, with tank (battery cover)
Specifications in brief
Original vehicle:

2001 Honda NSR150

Converted:

Early 2014

Motor:

Motenergy ME1003

Controller:

ZEVA MC600C (144V 600A)

Batteries:

264x K2 26650EV (44S6P layout, 140V 19Ah total)

Battery Management:

4x ZEVA BMS12 modules + EVMS

Instrumentation:

ZEVA EVMS Core + Monitor

DC/DC:

Chennic 35A

Contactor:

Kilovac EV200

Fuse:

Gould A25X150 (250V 150A)

Potbox:

Chennic 0-5V Hall Effect

Charger:

Elcon 144V 15A
See full story here: http://www.zeva.com.au/Projects/NSR/
Herb's 150 Beauty
Our Feature Bike this week comes from Herb Suesskow with his immaculate and very original Honda NSR150SP, This one really impressed our team.

Herb brought the bike a few years ago, from the original owner, who unfortunately fell ill shortly after he got it. It had 600km on the clock, and was put in storage for about ten years, Herb purchased it and brought it back to life, "it was real hard to start when I got it" say's Herb, so he rebuilt new the carburetor, Which fixed that problem. Herb changed all the oils and fluids, put on a Tyga exhaust and rear sets. "At 50 years old this is the most fun bike I've ever owned". Herb Explains. "I've decided to sell, there's something else i want".
To see more of Herb's bike check out our gallery!
1991 Honda RS125
The RS125 is a race motorcycle built by the Honda Racing Corporation for the Grand Prix motorcycle racing's 125 cc class. The motorcycle debuted in 1988 season.
HRC racing motorcycles are made for competition use ONLY, and are NOT covered by warranty and NOT to be ridden on public roads.
Ronita Print Feature Bike (May 2015)
In early 2015, I bought a HONDA NSR150sp. It has always been my dream to have one since I was a high school student, and finally, 10 years later, it came true. Unfortunately, this bike has not been produce anymore and becomes a rare bike.
Well, before continuing this story, let me introduce myself. My name is Roni, I have a digital printing business with one of our product lines is on motorcycles and cars wrapping. My digital printing workshop is located inTangerang Selatan, Indonesia, the same city as where I live now.
Based on my business, I have a passion to change my motorcycle to be more modern and dynamic. I want to show everyone: even with this old motorcycle, we can make it fresher and more modern by choosing a good design. So, I picked this design after I thought about it for one week with my team.
In this modification I used some special colours, as follows:
1. Highlighter Orange, I used this colour because this color is one of HRC color
2. Reflective Colour, for NSR lettering and my company's name:RONIta Digital Printing, so, when the letters are exposed to light it will glow
3. Chrome, I used this colour for dressing the frame andto make this part shinier
4. Gradations of Colours, I chose this as a sign that this modification was made from digital printing process.
5. The colour of carbon, for luxurious effect. I used for the behel part.
I combined all the above colours to get a dynamic and modern effect for my HONDA NSR150sp.
Since this is not a new motorcycle, we need to make some body repairs first before we can stick the stickers on it.
After all repairs were finished, we printed and installed the stickers to this motorcycle. For the wheels we used painting method because it's not possible to stick a vinyl sticker on it
And 3 weeks later here is the result
Ronita Print's Custom Livery
Our Feature Bike this week comes from Ronita's custom livery scheem is one that impressed our team.
Custom Livery #2